EdbMails Exchange migration tool: Review and Product details
Table of Contents:
Introduction
Exchange Migration hiccups with the native solutions
EdbMails Exchange migration software: Overview
Prominent Features of the EdbMails Exchange Migration utility

Migrate from all Exchange server versions
Exchange to Office 365 Migration
Cross domain and cross forest migration
Directly upgrade from legacy Exchange servers to the latest
Incremental Migration Support
Exchange Public Folders and Shared Mailboxes Migration
High performance and easy management of throttling

Configuration of Exchange migration utility in simple steps
Possibilities Different Migration Scenario
EdbMails Exchange migration reviews
Pricing plans and Free Customer Service
Concluding Remarks

Introduction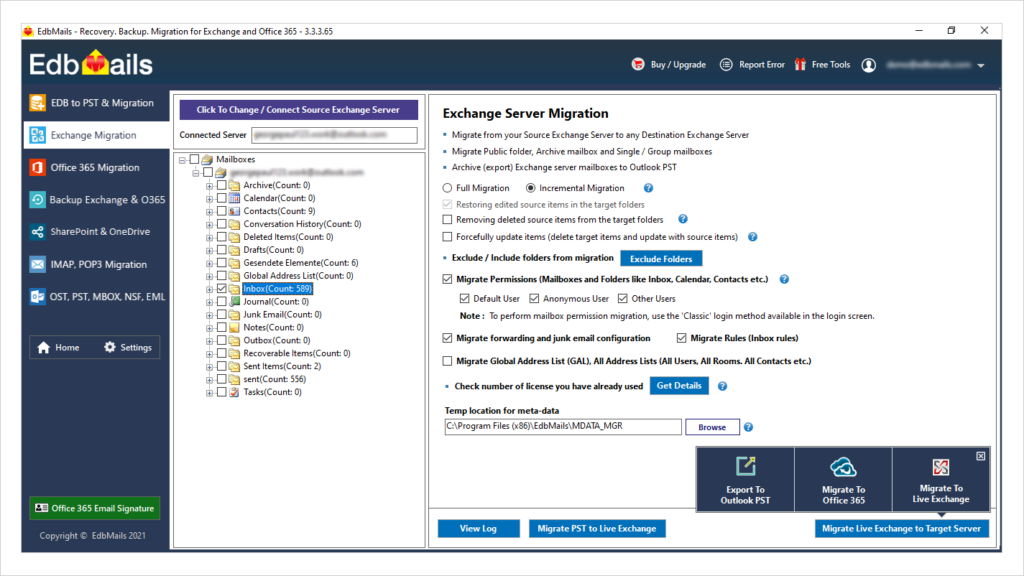 You've arrived at a fork in the road, and you're not alone. Nowadays, almost everyone is perplexed as to what the best course of action should be, or which path they should take to upgrade their email communication systems. Many organizations that have stuck with Exchange 2010 are in significant risk, with no direct upgrade path to Exchange 2016 and end-of-life support for the 2010 counterpart. You may or may not benefit from the cloud computing marketing frenzy, but figuring out how to migrate to the cloud will be necessary for your business regardless of which path you take.
If you don't want to use the Microsoft built-in tools, which can be limited depending on your needs, you can adopt a third-party migration software solution to help you transition to your new Exchange, cloud-based Office 365, or a hybrid environment of the two.
In this case, EdbMails Exchange Migration tool might well be useful. It was designed to reduce the stress associated with data and mailbox migration. Before reviewing and learning more about this software, we should first thoroughly understand the migration hiccups with native solutions.
Exchange Migration hiccups with the native solutions
Have you ever felt helpless while learning the finer points of performing Exchange migration on your own? You're not alone, after all. That's how I feel when I'm evaluating migration technologies in some ways. This is due to the fact that it must address the issues rather than exacerbate them. One of the things that continues to frustrate me about native migration tools is the inability to directly migrate from Exchange 2010 to Exchange 2016 without first performing an intra-organizational double-hop (to Exchange 2013 and then to 2016) or a cross-forest migration.
Individuals should have made the leap to Exchange 2013, but now that the time has passed, they must decide whether to take a double-hop or something more creative rather than simply recalling the past. In any case, if you're looking for a migration tool that allows for coexistence and migration without any intermediate hops, EdbMails Exchange migration tool is the perfect choice. Continue reading to learn why you should use this software and how it can help you navigate the complexities of Exchange server migration.
EdbMails Exchange migration Software: Overview
EdbMails is a powerful solution for migrating user mailbox data from any version of Microsoft Exchange (beginning with 2007 and including SBS 2008, and 2011), to any Exchange (including the recent 2016 or 2019), Office 365 also to Hosted Exchange servers. Some of its key features include Automatic matching or mapping of source and target mailboxes, Selective items migration, Cutover, Staged, and Hybrid migration support, Incremental migration, Detailed migration status reporting, and more.
The benefit of using EdbMails Exchange migration solutions myself was that I could see how the software installed and performed, which was especially useful if I planned to use a hybrid approach for my migration strategy. Following installation, I appreciated the software's detailed, easy-to-follow step-by-step instructions. It described how to automate mailbox connection, but you are free to explore on your own and try out the different functions.
Prominent Features of the EdbMails Exchange Migration utility
Let's take a look at the different functionalities that EdbMails can provide in this section.
a. Migrate from all Exchange server versions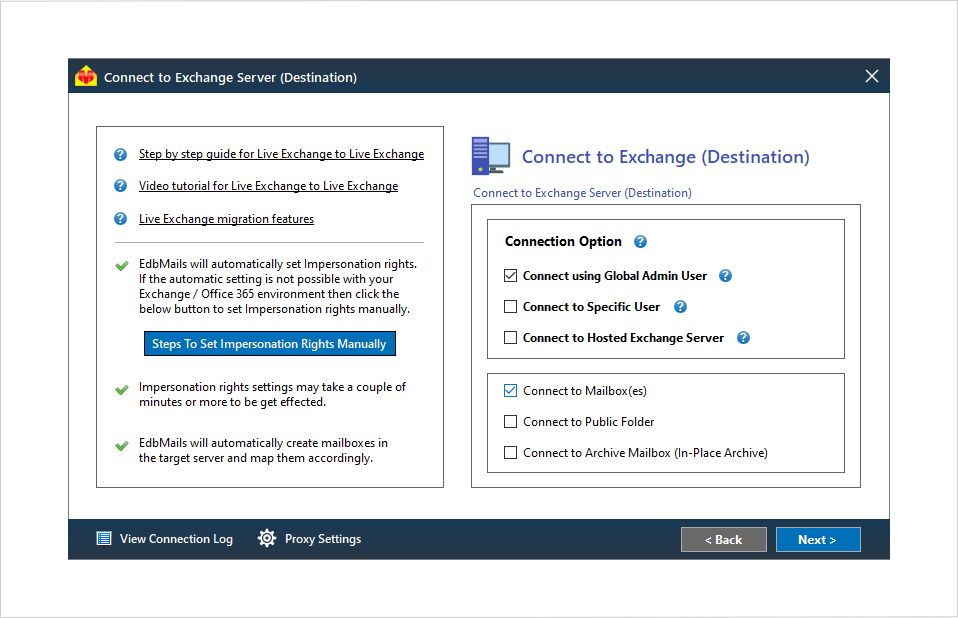 EdbMails Exchange migration enables you to easily move mailboxes from one on-premises Exchange Server instance to another, regardless of Exchange Server version. This software is useful when migrating users to a new AD forest or updating your entire email server installation to a newer version. Each of the tables below depicts the supported scenarios with EdbMails.
| | |
| --- | --- |
| Supported Source Exchange Server | Possible With EdbMails Exchange Migration tool |
| 2007 to any Exchange server | Yes |
| 2010 | Yes |
| 2013 | Yes |
| 2016 | Yes |
| 2019 | Yes |
| Hybrid Exchange Migration | Yes |
| Hosted Exchange Migration | Yes |
| On-Premise Exchange Migration | Yes |
b. Exchange to Office 365 Migration: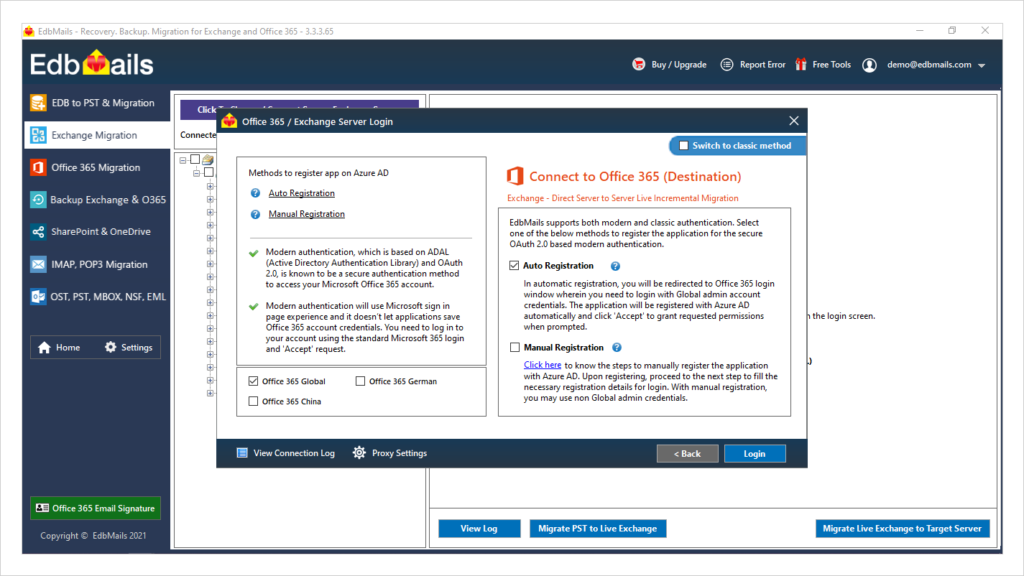 EdbMails Exchange Migration supports direct migrations from Office 365 (Microsoft 365) to Exchange 2010 and later, including Exchange 2019. You don't have to deal with time-consuming PST export/import jobs or set up a complex hybrid environment to migrate your business to an Office 365 tenant. When you use the EdbMails application to migrate your mailboxes, you will notice that the source mailboxes are not affected because the software simply transfers the data without modifying anything. A destination mailbox's folder structure will exactly match the folder hierarchy of a source mailbox ensuring complete data integrity.
| | |
| --- | --- |
| Source Exchange version to Office 365 | Possible With EdbMails Exchange Migration tool |
| 2007 to Office 365 | Yes |
| 2010 | Yes |
| 2013 | Yes |
| 2016 | Yes |
| 2019 | Yes |
c. Cross domain and cross forest migration
EdbMails can migrate mailboxes across any AD forest and domain without causing issues with coexistence. This is because there is a coexistence compatibility issue when manually attempting to migrate the various Exchange server versions. Exchange 2003, for example, cannot coexist with Exchange 2013, 2016, or 2019. Similarly, Exchange 2007 cannot coexist with 2016 or 2019, and 2010 and 2019 cannot coexist either. The software simplifies mailbox migration between two AD forests and domains in on-premises Exchange setups.
| | | |
| --- | --- | --- |
| Source Exchange version | Target Exchange Version | Possible With EdbMails Exchange Migration tool |
| 2007 | 2010, 2013, 2016, 2019 | Yes |
| 2010 | 2013, 2016, 2019 | Yes |
| 2013 | 2016, 2019 | Yes |
| 2016 | 2019 | Yes |
d. Directly upgrade from legacy Exchange servers to the latest Exchange
If you've found legacy Exchange migration to be a difficult task, wait until you've tried the EdbMails Exchange migration tool. It allows for direct mailbox migrations and upgrading from Exchange 2003 to 2013, Exchange 2007 to 2016, Exchange 2010 to Exchange 2019. All Exchange migration operations have zero downtime, ensuring that the conversion is completed without interfering with Exchange server services. This also means that you can continue to use your Exchange server and send and receive emails as usual even while the migration is taking place.
e. Incremental Migration Support
The initial migration with the EdbMails Exchange migration tool is always performed as a full migration. The metadata information about your migrated items and folders is encrypted with AES-256 military grade encryption and stored in your local environment. This metadata will be used for the incremental check during the next migration. For example, you may continue to receive emails in your source mailbox during the migration process. EdbMails allows you to perform an incremental migration on the subsequent migration to the same target in order to migrate these new emails without duplicating the items that have already been migrated.
f. Exchange Public Folders and Shared Mailboxes Migration
EdbMails supports the transfer of Public folders, Archive mailboxes, and Shared mailboxes. Public Folders can be migrated to a variety of target environments, including exporting them to Outlook PST, Shared Mailbox, Exchange, and Office 365 Public Folders. Archive mailboxes can be exported to Outlook PST, migrated to Exchange, or Office 365 In-place Archive mailboxes. Shared Mailboxes can be exported and migrated in the same manner as described above.
g. High performance and easy management of throttling
EdbMails is a multi-threaded application to ensure maximum performance during Exchange migration processes. There are no limits to the mailbox size, item size, or migration speed. Additionally, EdbMails Exchange migration tool can automatically control Exchange Server throttling, ensuring a smooth migration with no administrative interruptions. It ensures a simple, secure Exchange migration with the highest level of data accuracy and integrity.
Configuration of Exchange migration utility in simple steps
Now that we've gone over the features of EdbMails in depth, let's take a look at how to use the tool and migrate data.
Once you install and launch the EdbMails Exchange migration software, Select the Live Exchange Migration option from the drop down. The next step is to connect your source and target servers through the use of a connection wizard.
There are various options at your disposal. For example, you can connect to a specific user by selecting the second option or connect to all the mailboxes using the Global Admin User option.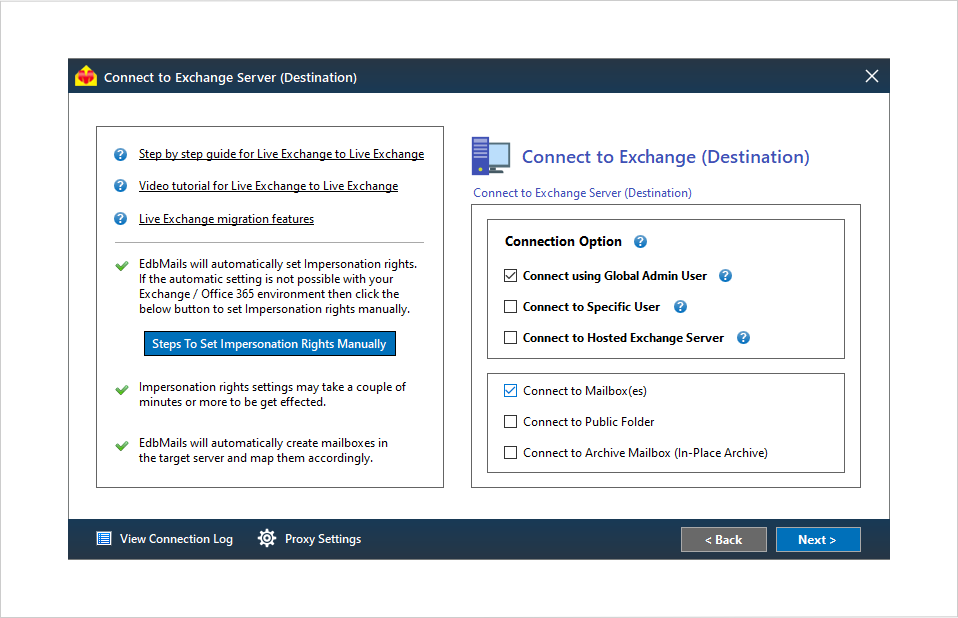 On the next screen you have an option Use Default Connection or Use Autodiscover Email as per your Exchange environment. Provide the appropriate details and Login. Using the Autodoscover Email option eliminates any conflicts with the IP Address or Exchange Version.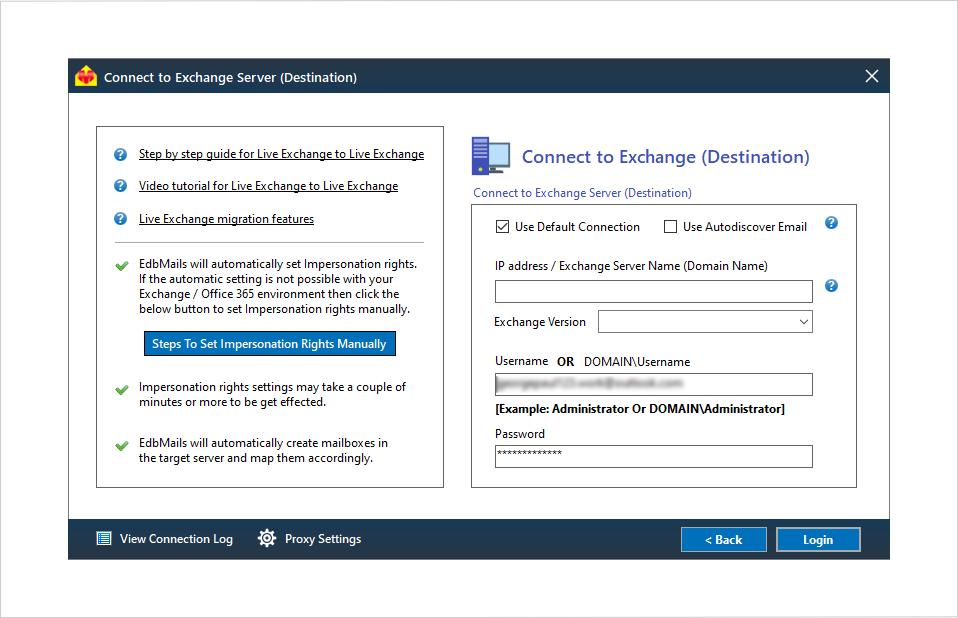 Once the login is successful, Choose the required option to load the mailboxes and continue.

Once the mailboxes are loaded into the migration window, choose the mailboxes and settings as per your migration requirements. Select the destination option either Export to PST, Migrate of Office 365 or Migrate to Live Exchange from the bottom pane.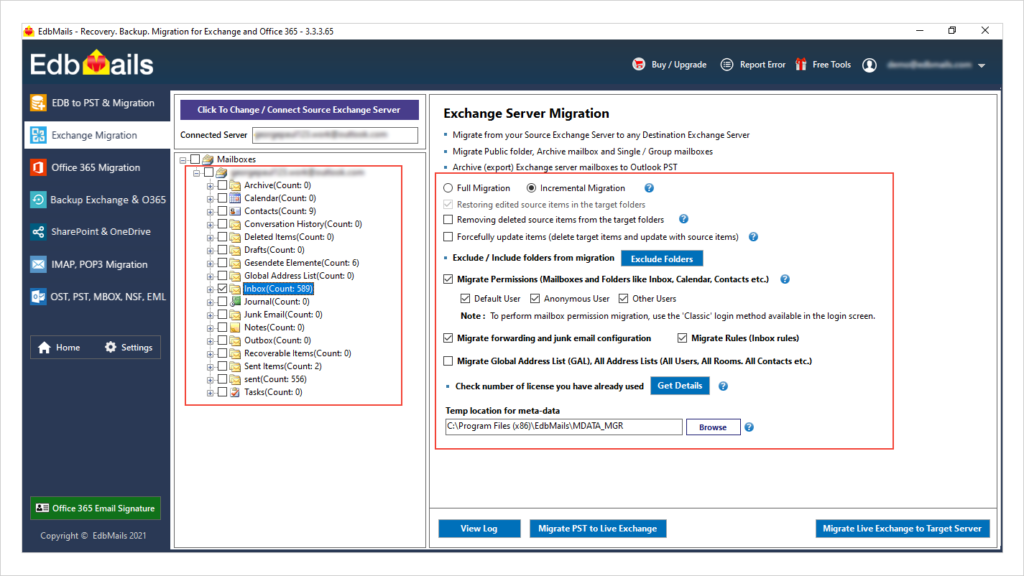 Follow the same procedure as that of the source to connect to the destination server and proceed with the mapping of source and destination mailboxes.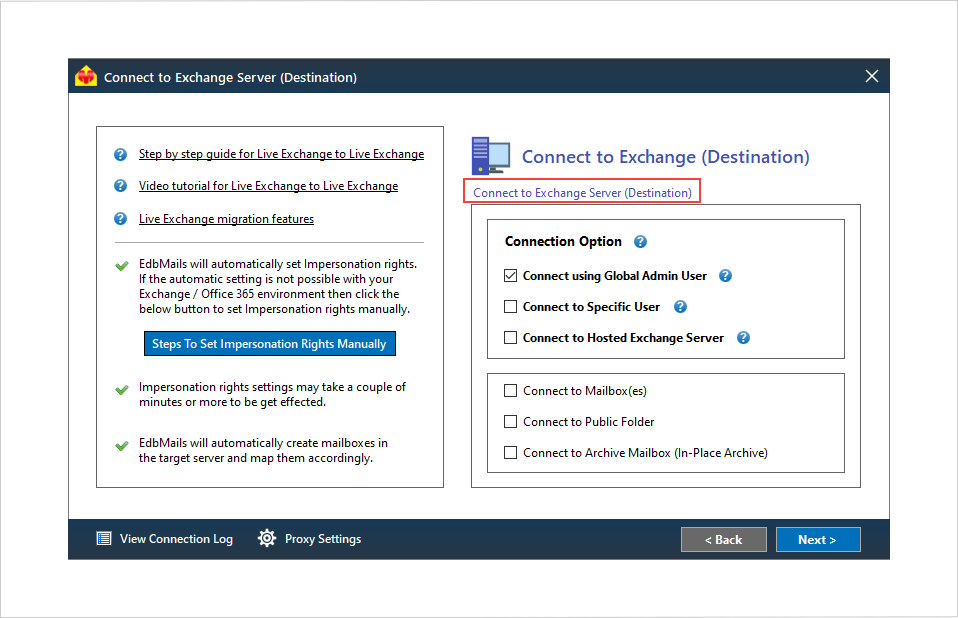 Select the option to map the Source mailbox to the Target mailbox. EdbMails maps source mailboxes to destination mailboxes automatically. You can also use the manual mapping method if you wish.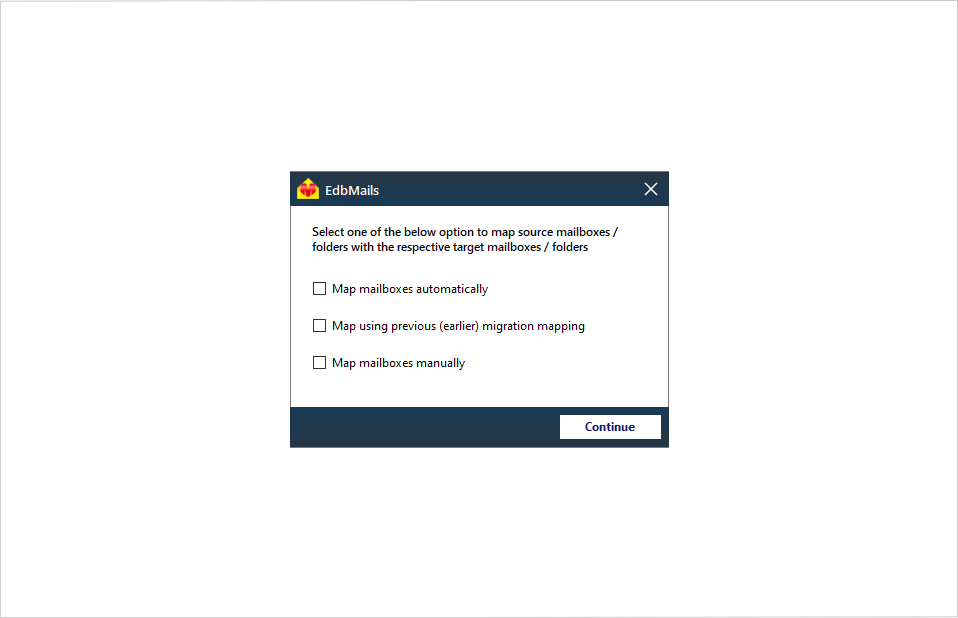 Verify the mapping and ensure that the option Migrate is selected under Action on the left corner of the window and proceed with the migration operation by clicking on the Continue button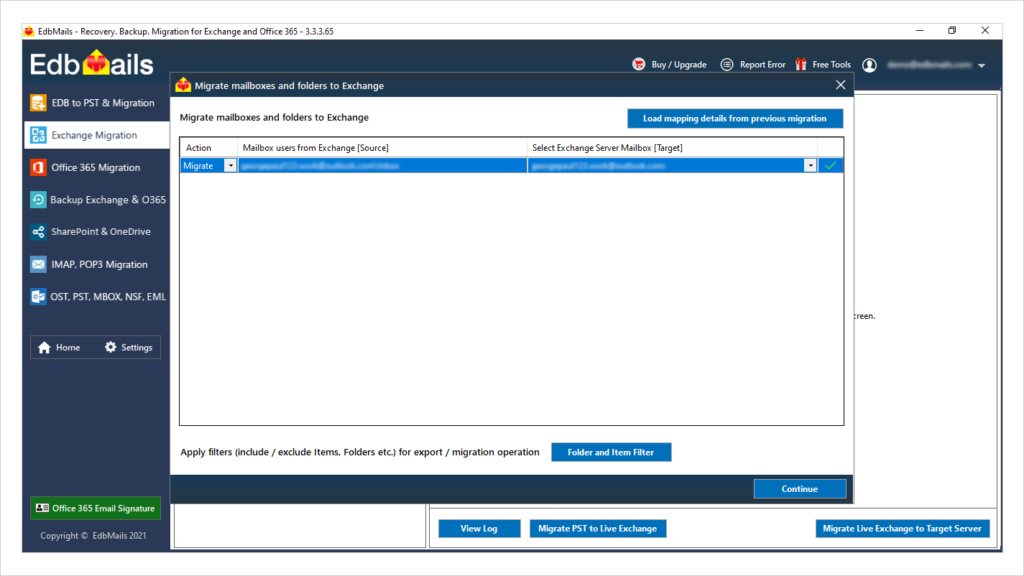 The migration progress bar will be displayed, detailing the status of the migration. You can also view the migration log report by clicking the View Log button.
To be honest, I was relieved to discover different Exchange migration options available in EdbMails. I was able to choose as per my migration requirements and it worked perfectly. EdbMails gave me a preview of my mailboxes, which I ensured that the mailboxes were properly matched for the transfer. If you don't want to map them manually, there's a handy automatic mapping feature that will save you time. During my testing the software performed flawlessly in the vast majority of situations.
Possibilities for Different Migration Scenario
When it comes to migrations, we frequently have limited vision and can only see them through the perspective of our own organizational requirements. For example, you have a clear picture of your own situation in mind when planning the migration from Exchange 2010 to Exchange 2019.
It is, however, impressive to see what EdbMails is capable of. This software supports all major Exchange versions ranging from Exchange 2007 to the latest 2016 and 2019. This means that you can use this tool to realize all possible migration scenarios by just connecting the source and the target mailboxes. Some users may wonder if it is possible to migrate Office 365 to Exchange or vice versa using EdbMails. The good news is that EdbMails is well-known for its versatility and we can confidently recommend that you put your trust in this tool.
EdbMails Exchange migration reviews
EdbMails has received positive feedback from users all over the world, demonstrating its popularity and uniqueness. It is no surprise that it has gained popularity due to its adaptability and tailored use to support various migration scenarios. Users are no longer forced to perform tedious migration routines, thanks to EdbMails extensive features and appealing user interface.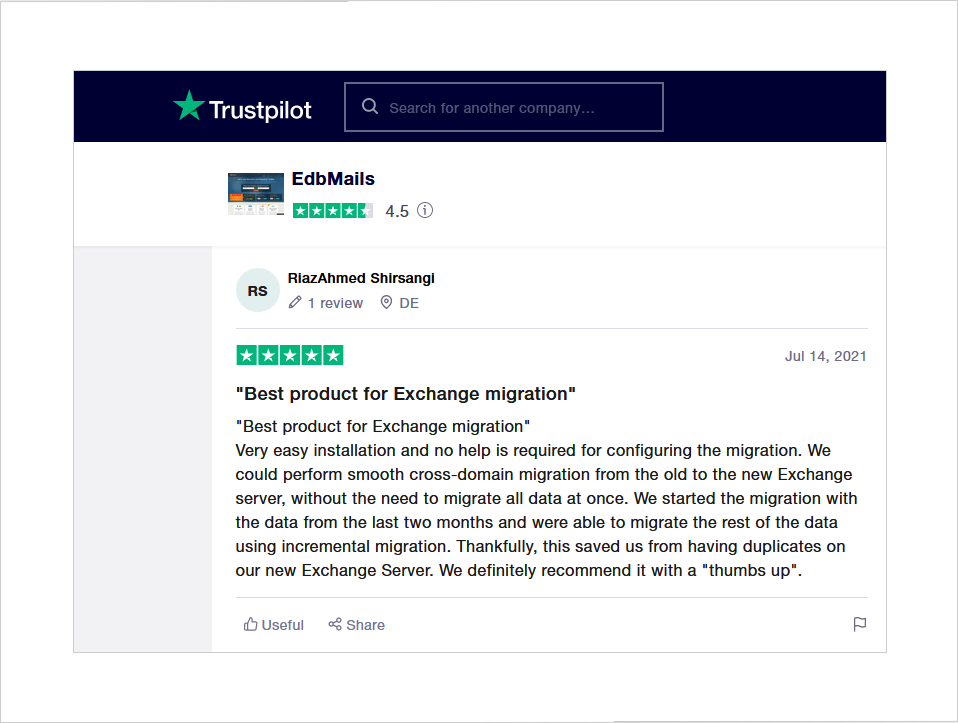 Pricing plans and Free Customer Service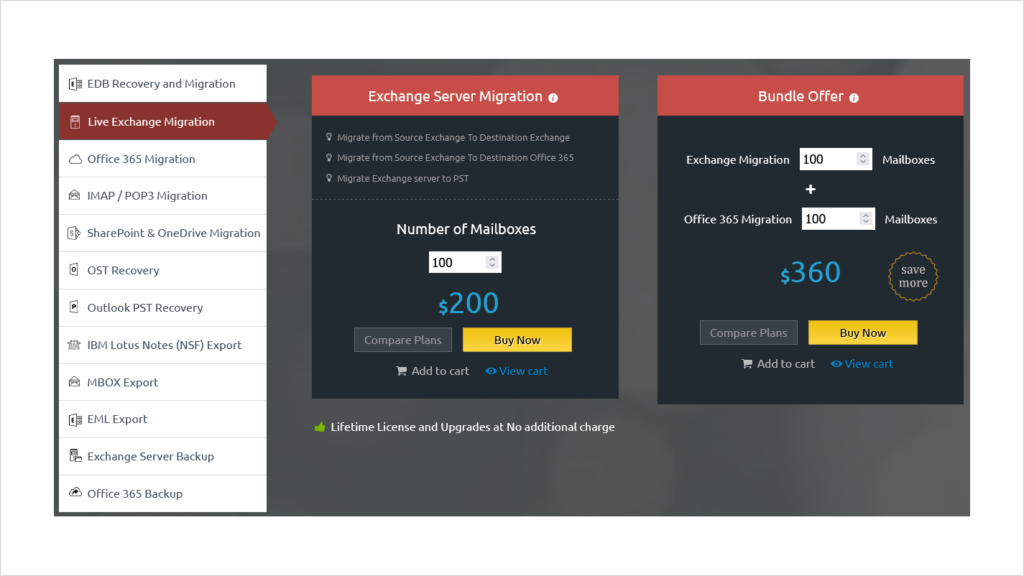 Different businesses have different Exchange migration scenarios. For example, some people prefer to migrate everything all at once, while others prefer to migrate it in stages. In such cases, purchasing mailbox licenses over and over again makes no sense. EdbMails offers perpetual lifetime licenses, which are very cost effective for businesses because you can use the same mailbox license as many times as you want without worrying about it expiring. It costs $200 for 100 Office 365 mailboxes, though you can change the number of mailboxes as needed. If you buy in bulk, you will save more money and will be able to use the license in the future. There is also a bundle offer available which costs $360 for 100 Exchange mailboxes as well as 100 Office 365 mailboxes together. Overall, EdbMails license plans are very affordable in comparison to other expensive solutions on the market.
In terms of technical support, EdbMails includes free online, 24/7 live support with the software. If you need additional assistance or want to see the product in action from an expert's perspective, you can request a free live demo for a thorough walkthrough of the product. This allows you to become acquainted with the software's actual operation, compare it to your requirements, and plan accordingly. If you are having problems at any point, their customer service also offers remote assistance. Taking into account all of these factors, we can rate their customer service as excellent and highly professional.
Concluding Remarks
In this case, I value EdbMails that can perform a task with pinpoint accuracy. For me, this was one of the most helpful features of the EdbMails Exchange migration tools. Across all Exchange migration scenarios, the user interface appears to be current and consistent. We tested it with various migration scenarios, such as upgrading Exchange 2010 to 2016, 2013 to 2019, and there were no issues in any of them. Besides that, EdbMails tenant to tenant Office 365 migration software also supports migrating Office 365 users from the same interface. The various options are available at your fingertips, and there aren't a zillion minor extra procedures to make the migration process a laborious one unlike other tools. EdbMails, in my opinion, is a useful and a simple tool for any Exchange migration scenario that deserves a high rating. You just need to try it!